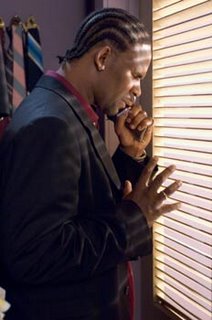 The other night I was telling Gord about R. Kelly's awesomely epic video 'Trapped in the Closet'. Deciding it needed to be seen to be believed we sat infront of my slow little computer last night & watched all 12 chapters on youtube.com. It took a cool hour and a half. And worth every minute.

Today it is raining & I can think of nothing more I'd like than to be sitting in my living room, knitting & watching it *again*. This morning I even went back to the website & watched some of his other videos - my favourite being 'wind up'.

It got me thinking though - I wouldn't mind being trapped in my closet for a while - the sewing room closet needs a lot of organizing & as part of 'use what I have' month (which I may extend to May!!...yeeee-oinks!) I really should sift through all of it & make little bags & creatures & sundresses & quilts out of it all. I've also decided that this year will be a 100% handcrafted holiday for me. If you are on my christmas list your gift will be born of my blood, sweat & tears....and of my mistakes because I sometmes do things when I'm perhaps a little ... lets say 'out of sorts.'

And to be sure this post is at least a little relevant:

Check out this mega gigantic rug!!



more of it can be found here.
if you click on the little flock of sheep on the right hand side you can see more photos & they will blow your mind. honest.

What does R. Kelly have to do with a giant rug knit from the wool of 18 sheep? There's probably some way to connect it.